Alarms
Jump to navigation
Jump to search
Alarms
There are two kinds of alarms reports: Alarms Report and Alarms History Report. Selecting the Alarms button at the top left brings you to the Alarms Report by default. Like with other reports, data can be filtered and sorted, see Advanced Filtering.
Alarms Report
The Alarms Report displays all alarms grouped by equipment and alarm type. For example, if an equipment has multiple battery low signals, they will show up as a single row. If you want to see all individual alarm events use the Alarms History Report instead.
This report displays the alarm level, group name, active alarm count, alarm event pin status, the equipment in which the alarm originated from, description, and the active alarm event time (usually the latest alarm).
Equipment can also be configured at the template level ( Advanced Alarm Configuration ) to further group alarms together. For example, an alarm of type battery low can be grouped with an alarm of type battery normal and the group's alarm level would be that of the latest alarm signal received. This allow the group's alarm level to clear itself back to normal when a normal signal is received. An alarm signal manually configured into a group doesn't appear individually outside of the group.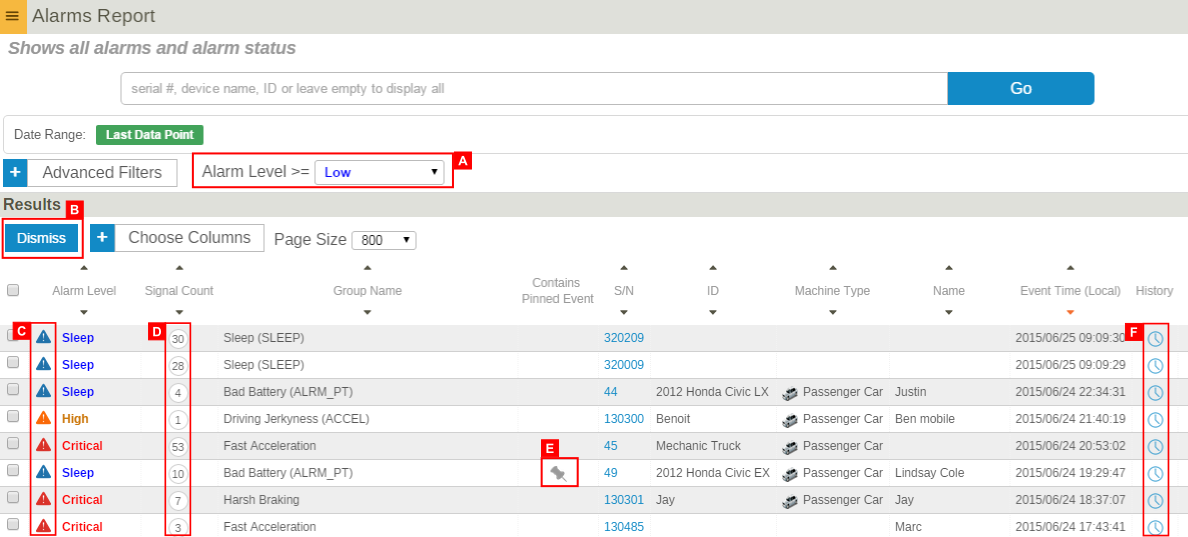 Active Alarms History
More Info View
Shows all events such as locations, values, and alarms reported around the event time of the specific alarm.
Alarm History Report
Within this page, you can view all reported alarm signals. The report displays the alarm level, pinning status, the equipment, event time, alarm name, tag, description, and alarm group name (if it has one).